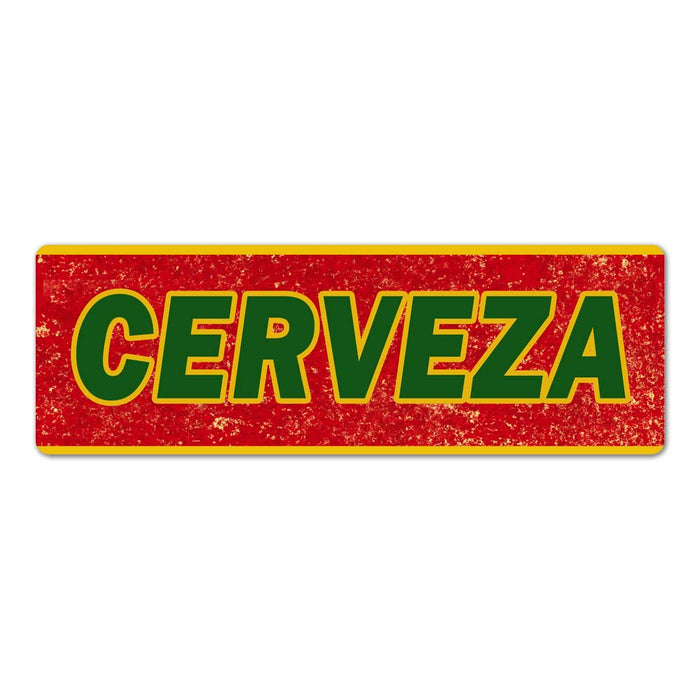 Cerveza Vintage Look Restaurant food Metal Sign 6x18 106180067001
Sale
Sale
Original price
$34.95
-
Original price
$64.95
 Available in Two Versions:
6 inch x 18 inch x .032" Thick w/ Economy Gloss Finish
6 inch x 18 inch x .040" Thick w/ Premium Low Luster Finish
8 inch x 24 inch x .040" Thick w/ Premium Low Luster Finish
Made of aluminum, this 6 inch by 18 inch sign is made in the USA with American made materials and American craftsmanship. It consists of an image baked into a powder coating over a thick heavy gauge aluminum. It has the appearance of an aged and weathered sign with simulated rusted edges and scratched and faded paint on a low luster powder coated finish. It has smooth rounded corners and includes mounting holes.
These are nice reproductions of original vintage signs and advertising that are perfect for your home, office, garage, man cave, dorm room, game room, kitchen or any place you'd like to display this unique sign. These are made to order and individually handcrafted signs. We have several thousand different designs available with more being added every day. And we can offer many signs in a clean version with out the distressed, rust, scratches, etc. Many of our signs can also be personalized with your name.
The price of this sign includes FREE SHIPPING which usually takes 3 to 5 days in the United States.
Made out of .040" thick aluminum (60% thicker than .025" aluminum or tin signs) with a wonderful low luster powder coated finish for a great look and feel!
Distressed versions have simulated rusty edges and faded paint and scratches to give a nice aged and worn look on a smooth low luster powder coated finish. It's also available in a thinner high gloss finish.
Durable aluminum won't rust, 6 inches x 18 inches w/ rounded corners and mounting holes
Made and shipped in the USA. Don't be fooled by cheap counterfeit signs from overseas. This is American Made!
SHIPS IN 1 to 2 DAYS. RECEIVE IT in 4-5 DAYS from a USA Mfr.